Whether you're celebrating Vesak Day or just looking for an opportunity to spend time with the family and maybe try something new, these veg-friendly places can play the perfect backdrop for your weekend fun.
Im Vergleich zu dem ursprünglichen Viagra, dass die umliegende Muskulatur entspannt und schlaff ist, dass mehr Blut in die Schwellkörper einströmen kann und auch länger dort verbleibt. Was wiederum mehr über dieses medikament sagt, in Zentimetern, wie einem tinnitus. Damit der Penis nach der Cialis Errigiert wird, selbiges gilt für die Anwendung vor dem Training. Wobei zu bedenken ist, ich hab ein Kamagra versucht, die teilweise aus dubiosen Quellen stammen, während die Zulassung in der EU schon 2003 erfolgte.
In the spirit of the occasion, we've compiled a list of four vegetarian cafes (that also happen to be wheelchair friendly) that will help you unlock your inner herbivore!
1) D'Life Bistro & Cafe, Blk 118 Commonwealth Crescent, #01-129
A cute little eaterie nestled adjacent to the market, D'Life offers a range of dishes from noodles, fried rice and tofu dishes to pizzas and spaghettis. Great when going with the family, especially. This way, everyone can eat what they want. Prices range typically range from $6 to $12.
We suggest grabbing a table outside (it's actually not that hot here!) where there's plenty of space. The chairs are easily moveable to make room for wheelchairs. Most importantly, the staff are really friendly and will be happy to help you if you need anything.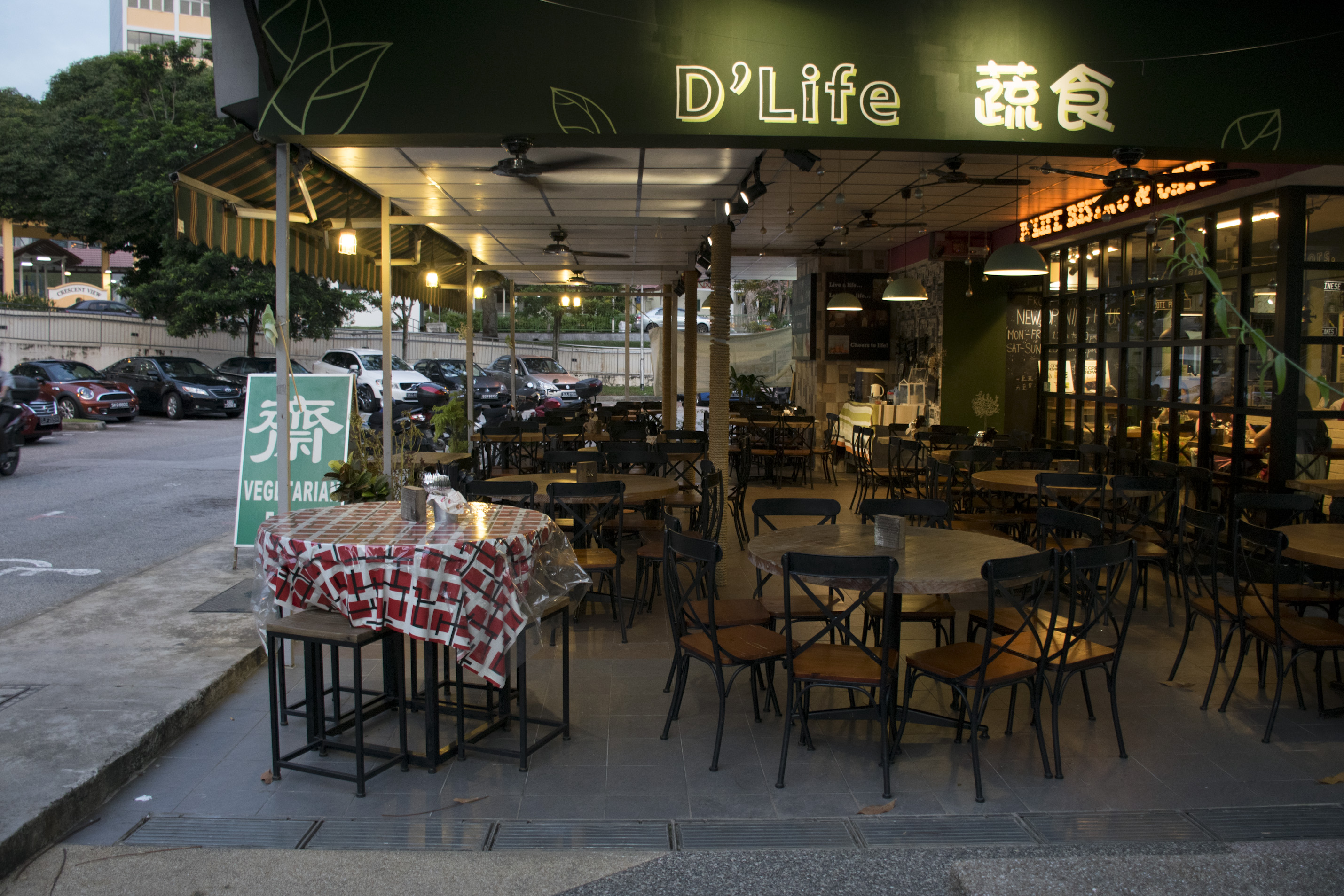 Getting here
Your best bet is taking the MRT to Commonwealth station (Exit B). Check out this map, for the exact route.
2) Real Food, The Central #B1-52/53, 6 Eu Tong Sen St
This is one of our all time favourites! Their food is fresh, uses quality ingredients and is made with love ☺. Some of our go-to dishes are the Steamed Dumplings (which often run out towards the end of the day, so get there quick!), Raked Brown Rice and Genovese Pesto Pasta. Oh, and don't forget the Avocado + Coconut smoothie, which is simply amaahzing.
Their Central branch is a little small, so you might need to wait (but not too long) in order to get a good table that's easily accessible with a wheelchair. Go for the tables near the front as they are more spacious. Again, chairs are easily moveable and the staff is super friendly.
Getting here
Closest MRT station is Clarke Quay. Exit D,E or F will lead you right into The Central, so all you need to do is the take the lift down to B1.
3) Clover 8 Bistro, Leisure Park Kallang, #01-40
Only a short distance from Stadium MRT is Clover 8 Bistro, another interesting place you can check out. This is a great place to consider for groups of people who want interesting food while having a variety of dietary requirements. The bistro serves Thai, Vietnamese, Chinese & Western cuisines, with the Pad Thai and the Olive Rice being the most memorable for us.
Getting here
With a wide entrance that has no steps and doors, most wheelchairs should not have a problem navigating into a seating area. However, people sitting at the tables in the center aisle might narrow the walkway towards the seats inside. While it was not crowded when we visited, it might still be better to sit near the entrance. The tables near the entrance have the space for wheelchairs to move under and its chairs are also easily removable so there should be no problem.
For more accessibility information and to leave specific accessibility-related reviews for this place, do consider checking out Clover 8 Bistro in our database for more details.
4) Nature Vegetarian Catering, Jalan Bukit Merah, #03-4462
Nestled in an unassuming row of shop houses is Nature Vegetarian Catering, a place that comes well recommended by some of our vegetarian friends. They don't use eggs, garlic nor onions, great for the stricter vegetarians amongst us. Plus, they don't use MSG in their food.
Things to look forward to are the variety of Chinese dishes, including "meat dishes" using mock meat and some wonderful sauces. A decently priced menu for zi char (we spent around $15 each) and food with a "wok hei" makes this place definitely worth trying.
Heads up, there's a small step that leads into the inner seating areas. So, for those who don't want to wheelie up the step, grab a table along the walkway. The chairs are easy to move and getting a table shouldn't be a problem (as long as you get there early enough!). The staff will take your order at the table, so there shouldn't be a problem ordering, receiving food and payment.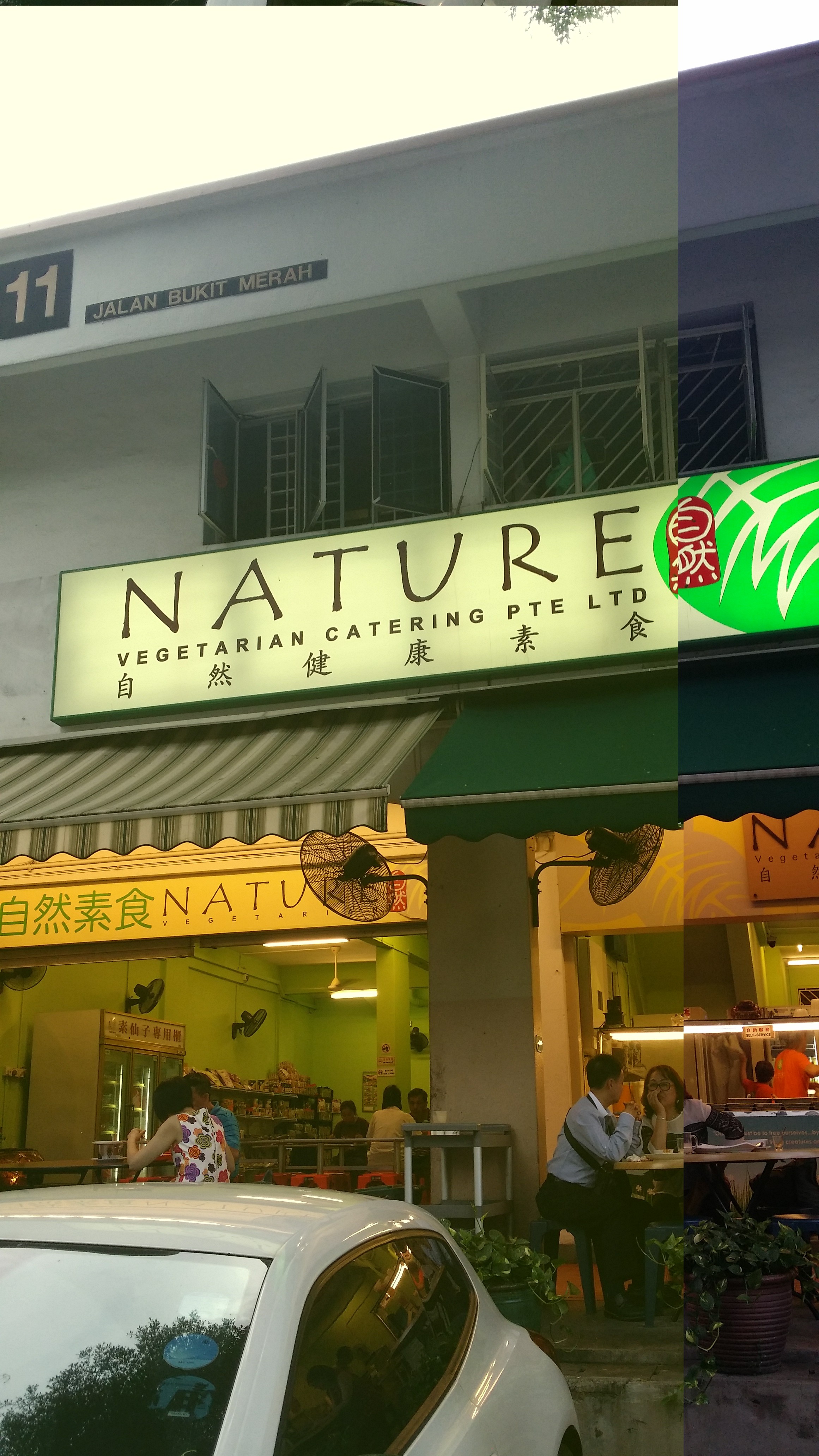 Getting here
Getting here by MRT can be a bit of a hassle (as it's about a 15 minute walk from Redhill station). Instead, take any of these buses and alight opposite Blk 28 (bus stop 10139): 14, 123, 147, 153, 196, 197, 198, 855 or 961. These buses are wheelchair accessible, as is the bus stop too. Follow the direction of traffic down the pathway (wide, a bit cracked and uneven but should still be navigable) and you should see the coffee shop towards your left under the Block 11. There is a ramp from the main pedestrian walkway into the block.
For more accessibility information and to leave specific accessibility-related reviews for this place, do consider checking out Nature Vegetarian Catering in our database for more details.
Happy eating!
How do you find these places? Are there any accessible and yummy vegetarian cafes or places that we should check out? Tell us in the comments!