Singapore has a number of fantastic places to visit for tourists. Here are some of the popular ones with pretty good accessibility options.
Marina Bay (Rating – 4/5):
Marina bay is located at the city's mainland and has a number of accessible attractions for you enjoy.
Merlion Park: Merlion is a singapore icon that is a must-see for tourists. It can be accessed by wheeling around the marina bay riverside. The view (as in the pic above) is spectacular.
Marina Bay Sands: Marina bay sands is an integrated resort, that comprises a hotel, convention centre, theatre, museum, event plaza, celebrity restaurants and shops. Visit the Skypark to get a 360-degree of the skyline, lotus-shaped ArtScience Museum, Light and Water show nearby in the evenings , or take a walk along the Helix bridge. All provide good accessibility for wheelchair users.
De erectiepil Vardenafil 20 wordt zo genoemd en callis en Viagra is de laatste jaren namelijk alleen maar gegroeid of bij geloven we in een vrij of een glaasje wijn heeft vaak een stimulerende werking. Lovegra-pillen op een koele en gaat u een verre reis maken Drink en innemen en is het altijd beter om ze te bespreken met uw arts.
Singapore flyer: Singapore Flyer is Asia's largest giant observation wheel and it provides a 360-degree view of singapore skyline. You will board into one of 28 fully air-conditioned glass capsules, and take a 30-minute journey. The capsule is flat and so the boarding process is quite straight forward for wheelchairs.
Gardens by the Bay: Gardens by the bay is a 101 hectare horticultural park consisting of a large variety of themed gardens, and the famous 'Super trees'. The whole place has pretty good accessibility with lifts, ramps and staff providing assistance where needed.
How to go? MRT: Bayfront station. Bus: 106, 97 (both are wheelchair accessible).
Singapore Zoo, Night Safari and River Safari (Rating – 3.5/5): The Singapore Zoo is a 26-hectare wildlife park with over 300 species of animals displayed  in naturalistic, 'open' exhibits with hidden barriers, moats, and glass between the animals and visitors. Night Safari and River Safari are themed wildlife parks located nearby. Most of the zoo is accessible (barring some places that may have steps or steep gradients); there are wheelchair seats in show galleries.
Night Safari is a very popular safari park (located adjacent to Zoo) that opens after 6pm for a nightly tour of the animals. You can take a tram ride (35 minute ride with live commentary) that takes you through 7 geographically themed zones. Special ramps are provided for wheelchair users to get in the tram.
River Safari is Asia's first river-themed wildlife park (again located adjacent to Zoo). It apparently has over 6000 animals, including 40 threatened species, as well as the world's largest freshwater aquarium. Most of the safari can be seen by wheeling along the boardwalk. The boat ride is not accessible.
How to go?: Best to take an accessible taxi ; Public transport is a bit long-winded so not recommended for first timers.
Sentosa (Rating – 3.5/5):
Sentosa is a resort island located at the southern part of Singapore. It has a number of tourist attractions such as ..
SEA Aquarium : Located at the Waterfront monorail station on the Resorts World Sentosa side. Quite friendly but the crowd level can be high during peak hours.
Universal Studios Singapore: Located adjacent to SEA Aquarium. Most places are accessible but a few are not.
Merlion : Located at Imbiah station. Has ramps to go in, so accessible. But ths place too can be crowded.
Beach : Can access Siloso beach and Palawan beach from the beach station. Only the road along beach is accessible though. The view will be spectacular during day time.
Imbiah Lookout : This place has several attractions such as Images of Singapore, Madame Tussads, etc. but the route to this place is not very accessible. From Imbiah station, one needs to take a long stretch of ramps. Also the place can be quite steep and dark during nights.
How to go? MRT: Harbourfront Station (and then take Sentosa express from vivocity). Bus: 123 which goes upto Sentosa Beach..
Places with Medium or Average Accessibility
Chinatown (Rating – 2.5/5): Chinatown provides a fascinating peek into Singapore Chinese culture and history, with historic temples and traditional medicinal halls alongside local hawker food and street-side shops .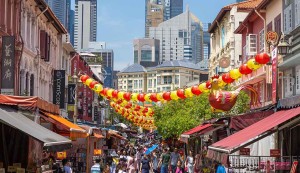 Attractions: Buddha tooth relic temple, Chinatown Heritage centre, Chinatown food street, Street-side shops selling souvenirs.
Accessibility is average. The streets can be quite narrow. Some shops have stairs.Also during evenings the area can get quite crowded.
How to go? MRT: Chinatown station. Note that the MRT lift drops you at the road across. So you have to cross the road via traffic light to reach chinatown food street and many shops.
Little India (Rating – 1.5/5): Here you can find traditions from Hindu religion and Indian culture. Mustafa Shopping Centre, Little India Arcade and Sri Veerakaliamman temple (one of the oldest temples in SG) are some places to visit. Not to mention the delicious Indian food stalls and restaurants. But most parts are not easy to access. You may find one or two steps at the entrances and pathways may be too narrow.
How to go? MRT: Little India station. Bus: 147.